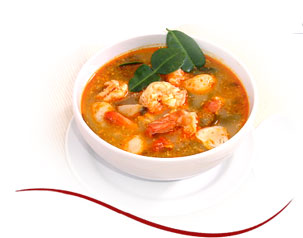 "Easy Home Cooking" Sour & Spicy Soup (Tom Yam) cooking set 100 – 150g of prawn, chicken, fish, seafood mixed, or your favourite choice.
Serve : Serve hot in individual soup bowls.


Pour "Saranjai" coconut milk 1 can (165 ml) into a pan or pot,and heat it until it starts to boil.
Add "Saranjai" tomyum paste (50g) into the pot and stir them together.
Add 100g - 150g of prawns or your choice of meat and stir well.
Add "Saranjai" mushroom without water (140g) to soup and wait till it boils.
Use empty can from coconut milk to add - 1 can of water if you feel the curry is too thick.
Add "Saranjai" Fish Sauce for salty taste and Lemon Powder for sour taste up to your taste.