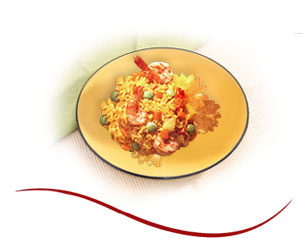 "Easy Home Cooking" Pineapple Fried Rice set 100 – 150g Shrimp or Chicken or Pork.
Serve : Serve as fried rice or serve with steak instead of mashed potato Garnish with raisin.


Cut the plastic bag and put "Saranjai" Thai Jasmine Rice into the bowl. Add the water 1.5 - 1.7 times of the amount of rice.

Note : To make rice more tender, increase the amount of water. Add 100g - 150g of "Saranjai" Pineapple Sauce and stir well.

For microwave :


Put the bowl into the microwave, cook at high power (900 watts) for 4 minutes.
Note : Adjustment for time may be required due to the variation in microwave wattages.


Take the bowl out, put shrimp or your choice of meat and put "Saranjai" pineapple (140g) (to make it sweeter, add more light syrup from pineapple can) and green bean, then stir them well together.


Put the bowl into the microwave again, cook at medium power for 5 minutes.