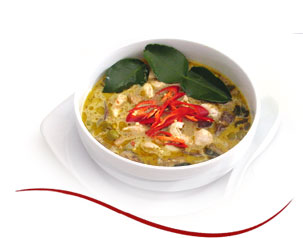 "Easy Home Cooking" Thai Green Curry cooking set 100 – 150g of prawn, chicken, beef, or your favourite choice.
Serve : Serve with Thai Jasmine Rice or Naan or Bread Garnish with fresh basil leaves.


Pour "Saranjai" coconut milk 1 can (165 ml) into a pan or pot,and heat it until it starts to boil.
Add "Saranjai" green curry paste (50g) and stir well.
Add 100g – 150g of chicken or your choice of meat and stir well.
Add "Saranjai" bamboo shoot without water (140g) and wait till they boil.
Use empty can from coconut milk to add ? - 1 can of water if you feel the curry is too thick.
Add "Saranjai" Fish Sauce for more salty taste up to your taste.